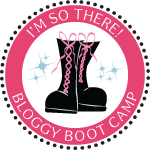 1. I just got back from
Bloggy Boot Camp
, and this is a love letter to Tiffany Romero and her partner, Francesa Banducci, t
he SITS Girls
,  who are responsible for the conference.
This is the second time I've been to Bloggy Boot Camp. Since I have been blogging for over seven years and been to a number of bigger conferences, one would think I'd be twiddling my thumbs at this one. One would be wrong.
I am here to tell you unequivocally that Bloggy Boot Camp is the absolutely best, most-value-for-your-money blogging conference out there. Why? Here's what I think the answer is:
Rather than a huge yearly blowout serving thousands, Bloggy Boot Camp is offered throughout the year at different locations within the U.S. The first one I went to was in San Francisco; this one was in Las Vegas; next month it's in Chicago.
Because it's small, its very personal. You can actually meet all your fellow conference-goers. "You're not going to be best friends with everyone in the room," says Tiffany Romero, "but you will really connect with some of them."
The vibe is non-competitive, nurturing, happy.  And there's wine at the end of the day, from Mirassou Winery!
It's a one day event that is very reasonably priced.
The "takeaway"–what you learn from the sessions, not the swag–is exceptional. I'm giving you a taste of it below.
Tiffany Romero (@TiffanyRom) is a dynamic social leader. Her energy is amazing. Her social and business skills are fantastic. Her willingness to share what she knows with all of us is boundless. See, I told you this was a love letter to her.
2. Laurie Turk (@TipJunkie) detailed–and I mean detailed–her ten top tips for blogging success. Here is just part of one of the ten:
The company you keep will determine the trouble you meet. So,

Create genuine relationships. Friends first, favors later.
Collaborate with your tribe. Link trading group. Barter advertising.
Hard work beats talent when talent doesn't work.
Be seen IRL. People need to know how much you care before they care about what you know.
3. MidLife-Beauty is back this week with a cautionary tale about the toxins in skin care products. Here's a cautionary photo: blogger Brenda Clevenger, who wrote the post, was brave enough to include her photo taken in the ER.